NYC Family Style | Cocoa & Hearts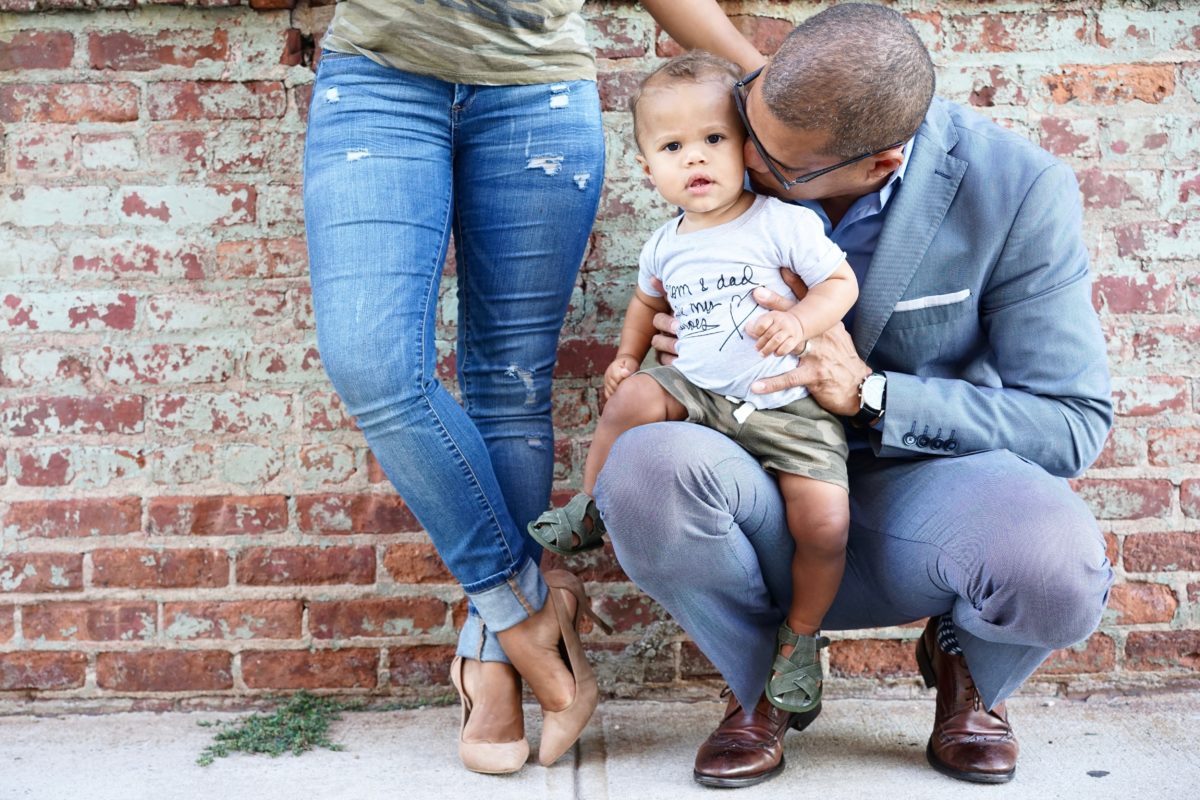 If given the opportunity to match my son, you better believe I will take it.  Camo t-shirt for me + camo shorts for him... yes, please. Before becoming a mom, I never thought that a mommy + son could have twinning moments, but after become a #boymom, I realized twinning moments are not reserved for mothers + daughters only.  I mean, why should girls have all the fun?  I love to coordinate with my son, while I still can.  One of these days, he will start dressing himself + probably won't want to match his mommy (insert tears here), but I can only hope that he will one day look back on these moments + think... "man, my mom was cool". That, or he will be totally embarrassed... I'm keeping hope alive that I stay "cool" in his eyes.
On any given weekday, this is pretty much how you'll find us. Jayden + I somewhat coordinated + daddy in a suit, headed off to work. Full disclosure, I don't run around the neighborhood in heels, but you know, mamas gotta dress up for the blog (wink, wink).
The past couple of months have been quite steamy in NYC (did you know July 2016 was the hottest month on record for the entire globe?), so I've been keeping Jayden's outfits simple... t-shirts paired with shorts are our go-to (typically minus shoes, but you know... for the blog. lol). My friend Jen of MadeByGirl, just launched a new kids t-shirt line, Cocoa&Hearts–which I'm in LOVE with!  Jayden is wearing my favorite design, "Mom & Dad Are My Heroes".  Check out Cocoa&Hearts to see the full line, a grab one for your little before they're all sold out.  I have my eye on the Uno Dos Tres, El Monito + Once Upon A Time.  But really, it's so hard to pick favorites, as I love them all.
Mom: T-Shirt, Target | Jeans, BLANK c/o (on sale)| Shoes, ASOS (on sale)
Baby: T-Shirt, Cocoa&Hearts | Shorts, Carters (similar)| Shoes, Target 
Dad: Suit, Zara | Shoes, Italian Shoemaker in Florence 
Thanks for stopping by! Hope you enjoy this little gif. I put together above.  It can't help but smile every time I see it, so I figured it had to be shared. Jayden started walking unassisted last week.  He's up to about 10-12 steps at a time, but who's counting. Happy Monday!
xxo, Fallon