My Weekend in an Instant // August 24th - 25th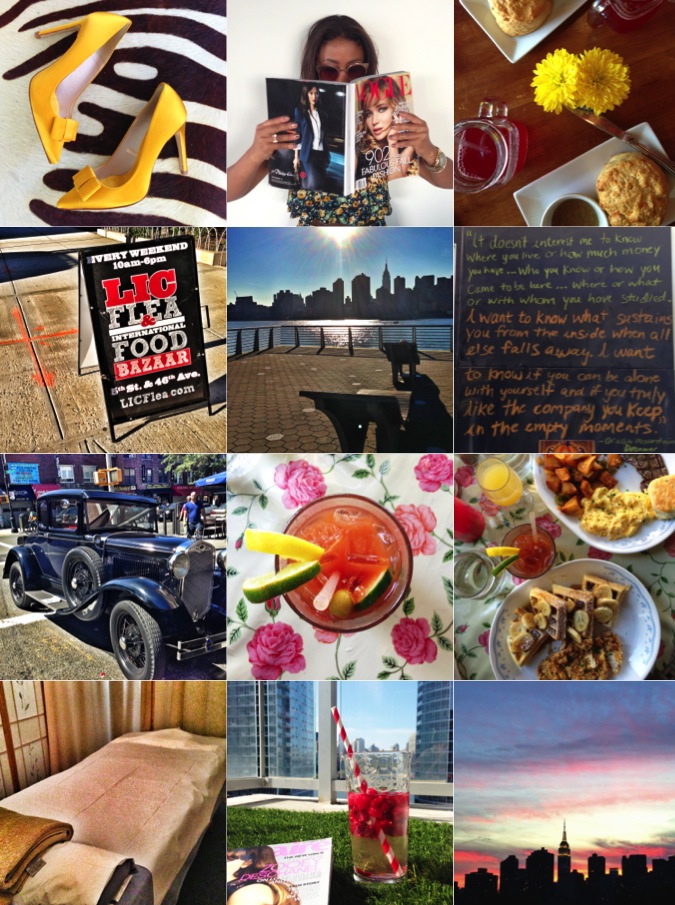 Four day work week begins NOW!  Can you tell I'm excited?!  Excited and anxious all at the same time.  Why is it always that leading up to a holiday weekend, you end up with double the amount of work on your plate for the week.  That is exactly what is happening for me now. That paired with the fact that this weekend is my loves bday.  Although he swears he doesn't want to do anything I still need to plan a fun night for us both.  Good thing I will have all day Friday to prepare.
My Weekend in an Instant // August 24th – 25th:
Friday night started off with a little trip to Zara, where I purchased my new favorite heels! They make a special appearance in this weeks style post... so stay tuned!  The night ended with a dinner date with my love at a new (to us)  french place in our hood.
Saturday morning was dedicated to the "September Issue", you know the one.  I have to admit, I haven't purchased Vogue in awhile, but now I think I'm re-hooked.  Haven't finished the issue yet... I mean its over 900 pages, but so far so good! Plus I love a good viral hashtag party on instagram, so I decided to join in #thespetemberissue #voguestagram
Met up with friends at Sage General Store... for a yummy Bacon Brunch. Seriously the bacon marmalade is to die for!!!
Then the three of us headed to the Flea for a little strolling...
and ended the day with girl talk on the water front contemplating our paths in life and how the "next steps" seem to be just around the corner...
Sunday began with Pilates at The Yoga Room... (loved this quote... click on the pic to enlarge)
Then it was off to Astoria with my love for brunch... check out this cool car!
Finally got to try my first Bloody Mary, for my first brunch at Sugar Freak (loved it)
and the food was insanely good!  Seriously... this is my favorite restaurant in Queens (tops 10 in NYC)
Following brunch we spent the next hour getting well deserved massages... I actually fell asleep for the first time ever... which I guess is a good thing, since it means I was finally able to fully relax
For those of you that weren't lucky enough to spend the weekend in NYC, let me tell you... the weather was absolutely perfect! Warm bright sun, no humidity... If this is summer, I don't ever want it to end! My love and I spent the late afternoon on the terrace soaking it all in... him with a good book and me with a magazine and ice cold water infused with frozen raspberries
Perfect sunset to end another great weekend! ps. I love NYC
Some of the above photos were on Instagram over the weekend.  To see them in realtime… follow me @sageandsparkle
So tell me, how you make your weekend sparkle? Do you have a 4 day weekend coming up too, or at least a 3 day weekend?Any plans? Please share in the comment section below…
Happy Monday everyone and remember "sparkle always"...
xxo
Related articles