How to Update Your Wardrobe On A Budget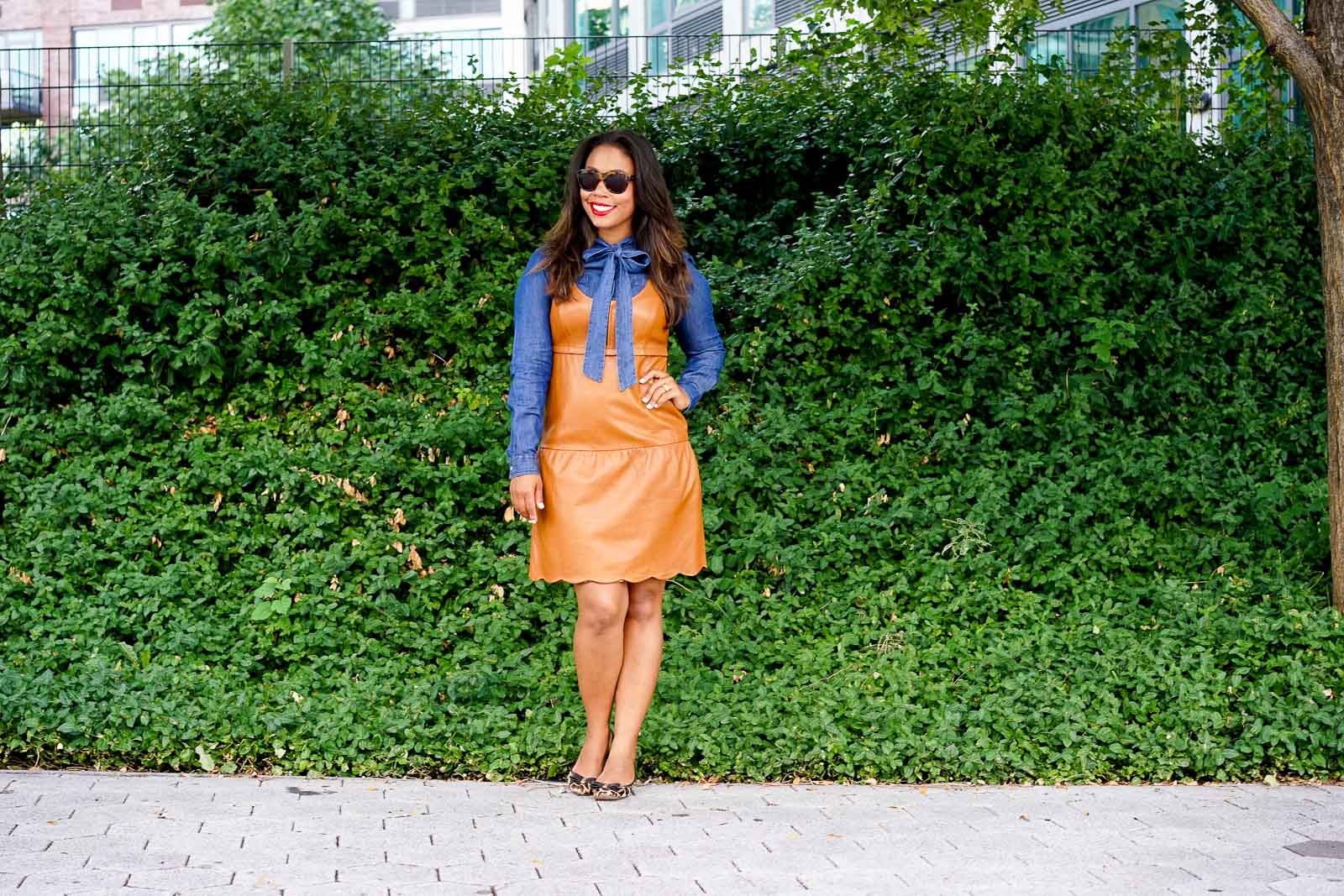 Labor day weekend, signifies the end of summer, the (unofficial) start of the Fall season + the beginning of my favorite time of year! Pumpkin spice lattes are back, Fashion Week is in full swing, cooler mornings have made an appearance + it's now time to start thinking about our Fall wardrobe...even if we are in the middle of a heatwave #ugh!  If history repeats itself, we still have a few good weeks of summer weather here in New York, but there is something about the start of September that gets me in the mood to start layering + planning ahead.
My three favorite classics for fall are leopard print, leather + layers, so it was only natural that I my first look of the season, incorporated all three.
Layers are the best way to shift your wardrobe from season to season.  Take this leather dress for example.  You could easily wear this dress without any layers + it would work for day, at the beginning or end of summer, when its warm but not too warm.  Add a short sleeve + your ready for a cooler summer night.  A a long sleeve or a button down (possibly even a pair of tights) + you've perfectly transitioned into fall. Cashmere tights, over-the-knee boots + an oversized chunky cardigan + you could easily take this dress into winter.  When it comes to laying classic pieces, the possibilities + seasons for which your combinations can be worn, are endless.
Head to the bottom of this post, for five tips on updating your wardrobe for fall, on a budget...
ASOS Chambray Shirt (last season)
Cynthia Steffe Leather Dress, via ThredUp c/o
Leopard Print MICHAEL Michael Kors Heels (old)
Sunglasses MICHAEL Michael Kors (old)
Get the look... 

Five Tips for Updating Your Wardrobe On A Budget: 
Shop your own closet. As I start to put together my wardrobe for Fall, some of my favorite pieces have come from my closet.  Being a New York (with limited closet space), every season I go through my full wardrobe and reevaluate what's working, what's not and try and think of news ways I can wear an old piece.  Many items then get packed up and some rediscovered items get moved into my closet. Reevaluating your current wardrobe also helps with my next tip...
Donate/Sell items you no longer wear.   I know it may sound counterintuitive, but I promise you, clearing the clutter will go a long way, in terms of updating your wardrobe on a budget.  Once you clean out the items that no longer fit or are no longer your style, you leave room for items that you truly love, that can be mixed and matched, which in the end can double, sometimes even triple your wardrobe and you didn't have to spend a thing.
Layer. Layering is not only a huge part of fall fashion, but it's a great way to update your wardrobe.  Layer a shirt under or over a dress or romper.  Add tights, scarves, cardigans to add dimension to a basic outfit.
Invest in classics + shop fast fashion for trends. It's okay to spend your money on a classic trench coat, a black blazer, or a great pair of jeans, that you will wear year after year, but for the more trendy pieces I like to stick to places like H&M, Zara and Old Navy.  They pieces you pick up at fast fashion retailers may not last as long, but I promise you, they'll be around long enough for you to enjoy them, before your style changes and you're on to the next.
Shop secondhand.  Places like ThredUp (nationwide) and Beacons Closet (NYC) are great for finding on-trend pieces in like-new condition (sometimes even with tags still attached) at a fraction of the price. Bonus: They are also great places to sell unwanted items as well.
**Adding accessories to your wardrobe is also a great way to update on a budget.  Accessories could fall in the classic/trend, secondhand or layer category.  Hey, you may even find a great accessory when you shop your own closet, like these leopard print shoes I'm wearing, which happen to be at least 3 years old, but are totally still in style today.  
What are some of your tips for updating your wardrobe on a budget?